Rent a Boat with a Skipper in Barcelona
Would you like to spend the day out sailing along Barcelona's coast line but don't own a skipper licence? No problem! We hire boats with skipper so that you don't have to worry about anything.
What is renting a boat with a skipper like?
Renting a boat with a skipper is the perfect option to enjoy a lovely day of sailing without any other worries than sunbathing, having a swim and enjoying the stunning views.
If you choose this option, you will embark at Port Olimpic in Barcelona at the agreed time together with your family and friends and, shortly after, we will set sail towards a great day of navigation. You will be able to learn more about boat handling, as well as relax thanks to the sea breeze, the views and the cool mediterranean sea. Some snacks, a glass of cava and some music will create the best atmosphere for you and your close ones to have fun.
Are you a fan of water sports? On board our sail boats we have paddle surf equipment (confirm availability with the skipper) and you will have the chance to do some snorkel when we stop for a swim (must bring your own equipment for public health reasons).
Take pictures, sunbathe and relax with your friends… All together, enjoy a first class nautical day with no need for licences, insurance or any hassle… Our professional skippers will be in charge of everything!
What is included when renting a boat with a skipper?
towels

Professional crew and fuel.
Customised time and duration of the event
Soft drinks and alcoholic drinks except liquor (Contact us for more info about how to bring your own drinks)
You can choose your route but we advise to follow the skippers recommendations as he knows the area's waters and anchorages to perfection

Sailing, swimming and water sports: Paddle surf (All paddle surf equipment included) and snorkel (Customer should bring their own snorkel equipment for public health reasons)
Typical snacks (Catalan fuet, cheese, crisps, olives and bread sticks - Contact us for more info about what food can you bring)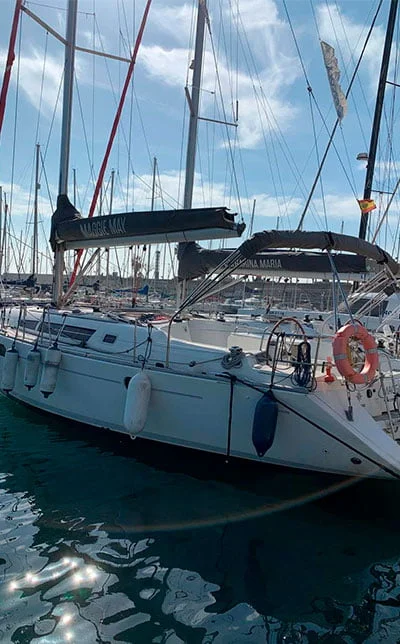 Maggie May: Jeanneau Sun Odyssey 44i de 2010, con 4 cabinas y 2 baños.
Catharina Maria: Jeanneau Sun Odyssey 44i de 2013, con 3 cabinas y 2 baños.
Some of our favourite picks
See for yourself how amazing renting a boat can be.
Do you want to give a special present?
Give a special gift to your closest friends or family: an unforgettable experience.
Romantic Boat trip 2 hours
A MUST! The best thing I did in Barcelona - can't recommend it enough!! Mark was such a good host and the swimming was surprisingly warm! I could've stayed out all day☀️
Fabulous and fun! Jean was a fabulous caption on the beautiful sailboat Catharine's Maria! He was so friendly and answered all of our questions quickly. He made us feel right at home- explained the sights along the coast of Barcelona and offered snacks and drinks to make us comfortable. I would highly recommend this sailing tour! It was just the right amount of time!
Fab boat trip! Fab boat trip! Really taken care of with snacks and drinks. Let you swim and play with inflatables. Plus really friendly! Definitely recommend to do while in Barca!
Great fun, lovely evening out. Throughly enjoyed the experience, glad we went later on the day, coming back just as the sun was starting to set over Barcelona. The captain let us get involved in everything from putting up the sail to tubing, great fun!
Highly Reccomend I highly recommend this booking due to the level of customer service. Unfortunately, the day our booking was scheduled inclement weather occurred. Our boat captain informed us of the rough conditions on the water and gave us the option to choose between continuing the trip, rescheduling, or receiving a refund. The ease, kindness, and communication in an unpredictable situation display utmost professionalism from this team and company.
Very good experience Vert good experience, we swimmed in the sea, the water under was 50 meters deep. Snacks, drinks were served
Une superbe expérience ! Super expérience à vivre pour nager en pleine mer tout en profitant de la skyline de Barcelone . Personnel super sympa et bienveillant !
A great experience Great experience and very welcoming, we were very unlucky with the weather but still had a great time, will definitely book again, many thanks.
My family really enjoyed this quick trip out on the water for some swimming and relaxing! Our captain was very nice and accommodating and we really enjoyed the couple of hours out on the boat! The water was warm and made for a great trip!
Relaxing This was such a relaxing and fun way to spend the morning- 2 hours was the perfect amount of time to enjoy the excursion while still leaving room in the day to do other things as well.
Celebrate any kind of event with us Choose among our most popular boat parties.
Celebrate your birthday in a special way
Unforgettable day with your friends